Here are the upcoming releases for October 2017 from Arrow Video.
A bloody good selection.
As the nights draw in, it just means more time to enjoy October's superb lineup from Arrow Video, including some wonderful Halloween treats in the form of a grindhouse classic, a box set collection of genre oddities, one of the greatest horror remakes ever, a cult paranoia thriller, and a blaxploitation chiller. Lavishly packaged and including limited edition steelbooks, Christmas has come early for film collectors!
First up this month is Blood Feast, a brand new restoration of the ground-breaking splatter classic from the Godfather of Gore, Herschell Gordon Lewis, the wonderfully lurid story of an insane caterer killing young women and stealing body parts as part of a ritual to reanimate an Egyptian goddess. The disc also includes late, great Lewis's Sixties sleaze-fest Scum of the Earth.
Finally arriving on UK DVD and Blu-ray is Miracle Mile, the Eighties sci-fi paranoia classic starring Anthony Edwards (Top Gun), that is gripping, unique and unforgettable. Featuring a memorable score from Tangerine Dream (Thief) and a finale like no other, this fantastic dual format release includes audio commentaries, short films and brand new interviews.
The first class horror just keeps coming in October, with a new Limited Edition Blu-ray release of John Carpenter's creature feature The Thing from 1982, that mixes wintry chills with mind-blowing special effects, quotable dialogue and a career best performance from Kurt Russell. This release is packed with extras, including an all-new documentary on the film, and features a stunning 4K transfer supervised by Carpenter and director of photography Dean Cundey. There's also a lavish must-have Limited Edition steelbook edition produced exclusively by Arrow Video.
Legendary horror cinema innovator, George A Romero, is responsible for arguably the most influential zombie films of all time. But he doesn't just make undead epics, and the three films collected here in the box set George Romero Between Night and Dawn – There's Always Vanilla, Season of the Witch and The Crazies – showcase the versatility and dynamism of this American auteur. As well as the films there are Romero interviews and documentaries and much more.
And finally, just in time for Halloween is a stunning UK DVD and Blu-ray debut of of the blaxploitation favourite JD's Revenge, about a man possessed by the spirit of a murderous gangster. Featuring Academy Award-winner Louis Gossett Jr (An Officer and a Gentleman), this is alternately tough and terrifying – a Blaxploitation gem waiting to be rediscovered.
Blood Feast – on Dual Format Blu-ray + DVD on 9 October 2017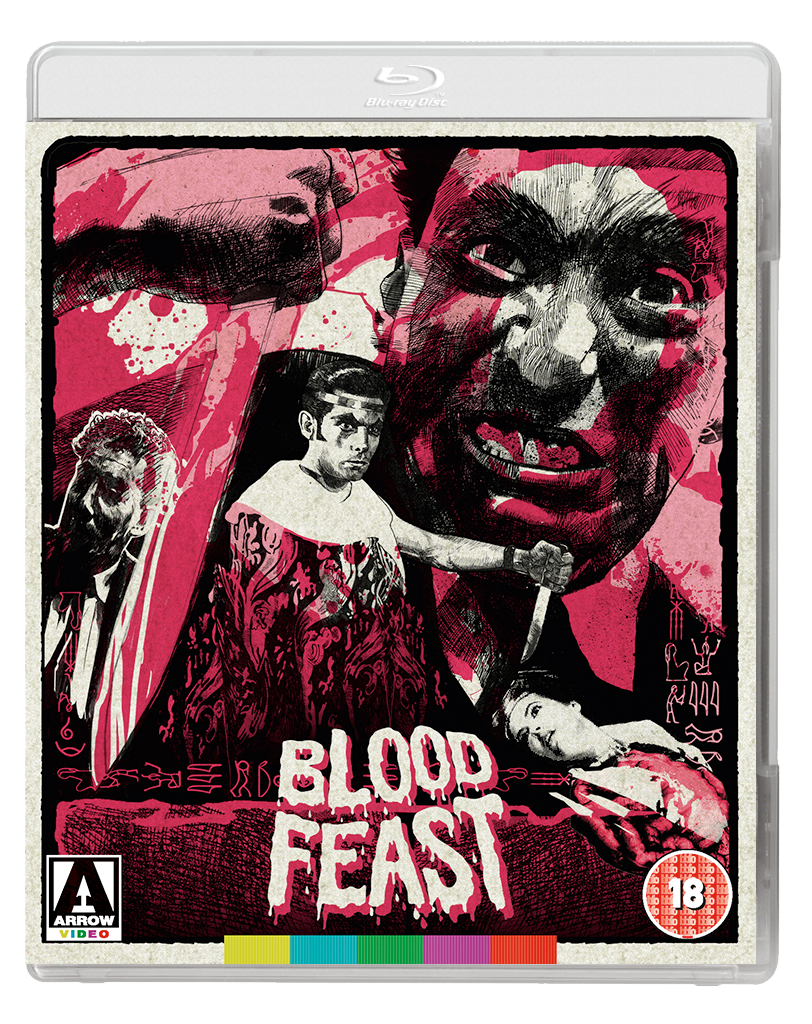 A sixties drive-in sensation and the film that launched a thousand slasher flicks, Herschell Gordon Lewis's lurid classic is the story of Egyptian caterer Fuad Ramses, collecting the body parts of young women in order to resurrect an ancient goddess. This gruesome, garish groundbreaker is presented here with a new artwork and a feast of extras, including new and archive materials, as well as Lewis's wonderfully sleazy film Scum Of The Earth.
To buy click HERE
Miracle Mile on Dual Format Blu-ray + DVD on 16 October 2017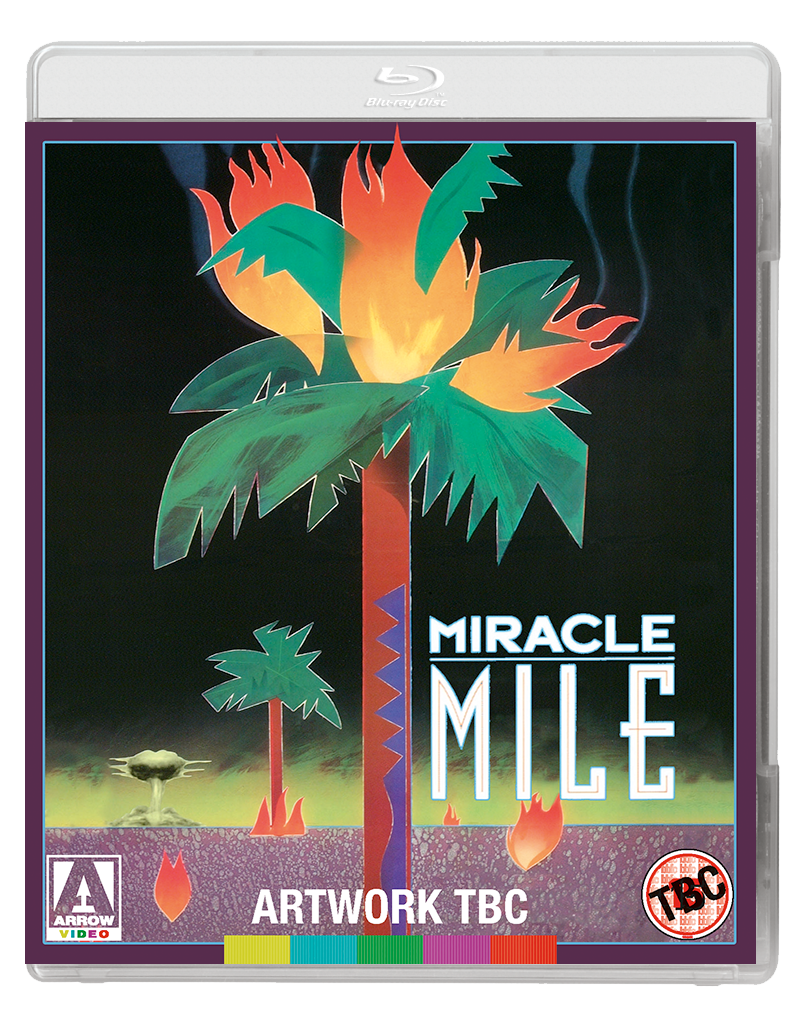 A madcap end-of-the-world adventure like no other, with Anthony Edwards racing against time to get Mare Winningham to safety before armageddon hits the West Coast of America, this cult thriller is as hilarious as it is disturbing, featuring scintillating views of nocturnal LA and a hypnotic score by Tangerine Dream. It makes its UK debut on this essential Arrow dual format release, with commentaries from writer/director Steve De Jarnatt, new interviews and, with the first pressing, a booklet featuring essential new writing on the film by Tim Lucas.
For more information and images please click HERE
The Thing – on Limited Edition Blu-ray and Limited Edition Blu-ray Steelbook on 23 October 2017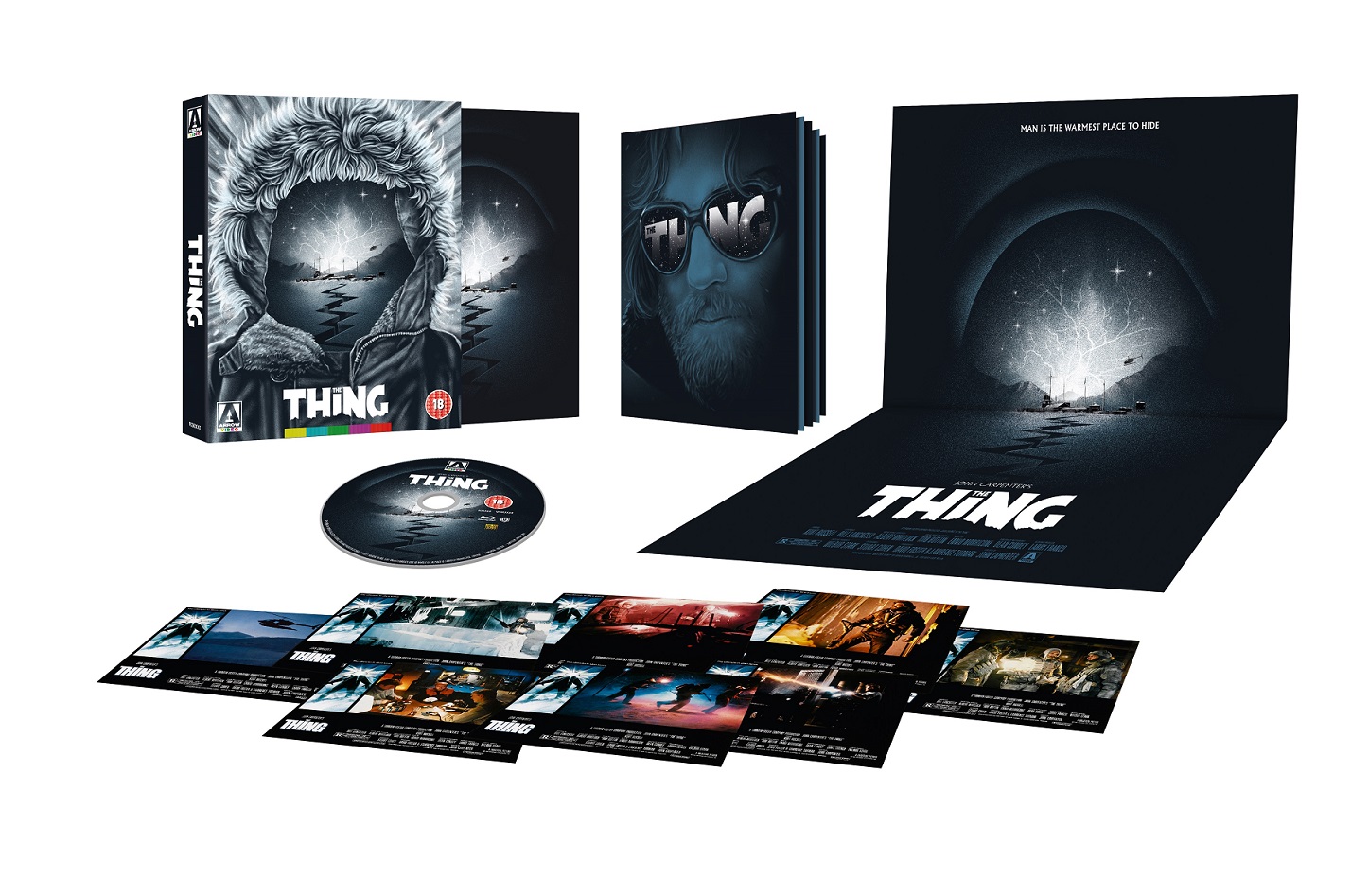 John Carpenter's remake of The Thing From Another World sees the director's regular star Kurt Russell as part of the crew of an Antarctic research facility terrorised by a shapeshifting alien. Showcasing a superb ensemble cast, a sublime score by Ennio Morricone, and jaw-dropping effects from Rob Bottin, this is an essential purchase for fans of one of the greatest sci-fi horrors put on screen, with the Blu-ray extras including behind the scenes footage, a new documentary, featurettes and a collector's book. The stunning limited edition steelbook will equally make a magnificent addition to the film libraries of Carpenter fans.
George Romero Between Night & Dawn – on Dual Format Blu-ray + DVD on 23 October 2017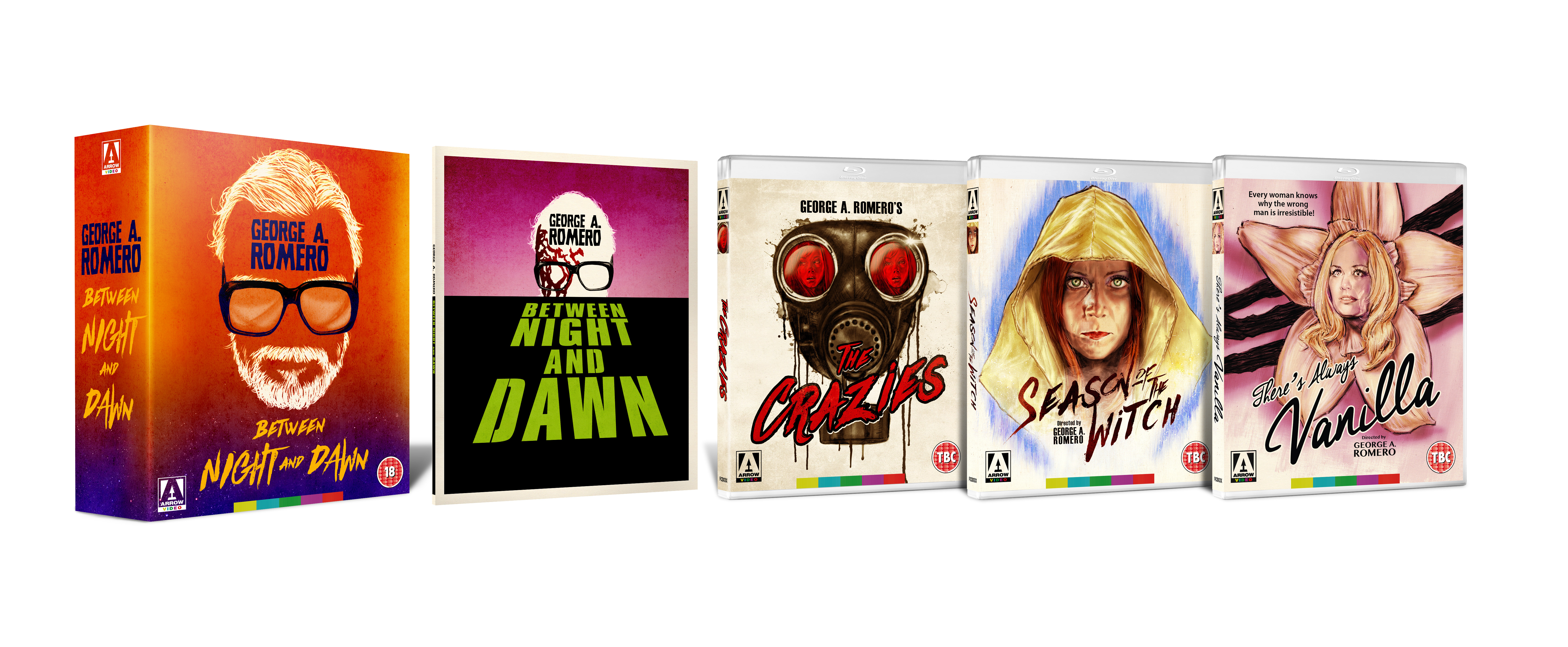 George Romero's name may be synonymous with the living dead subgenre, but as this box set shows, there's more to the legendary director than simply gut-munching ghouls. The two early Seventies 'lost films', comedy romance There's Always Vanilla, and psychological thriller Season of the Witch, are put together with infection horror The Crazies in a fantastic box set that includes brand new restorations of the three films, a 60-page booklet featuring new writing on this fascinating chapter of Romero's career, and much more.
To buy click HERE
JD's Revenge – on Dual Format Blu-ray + DVD on 30 October 2017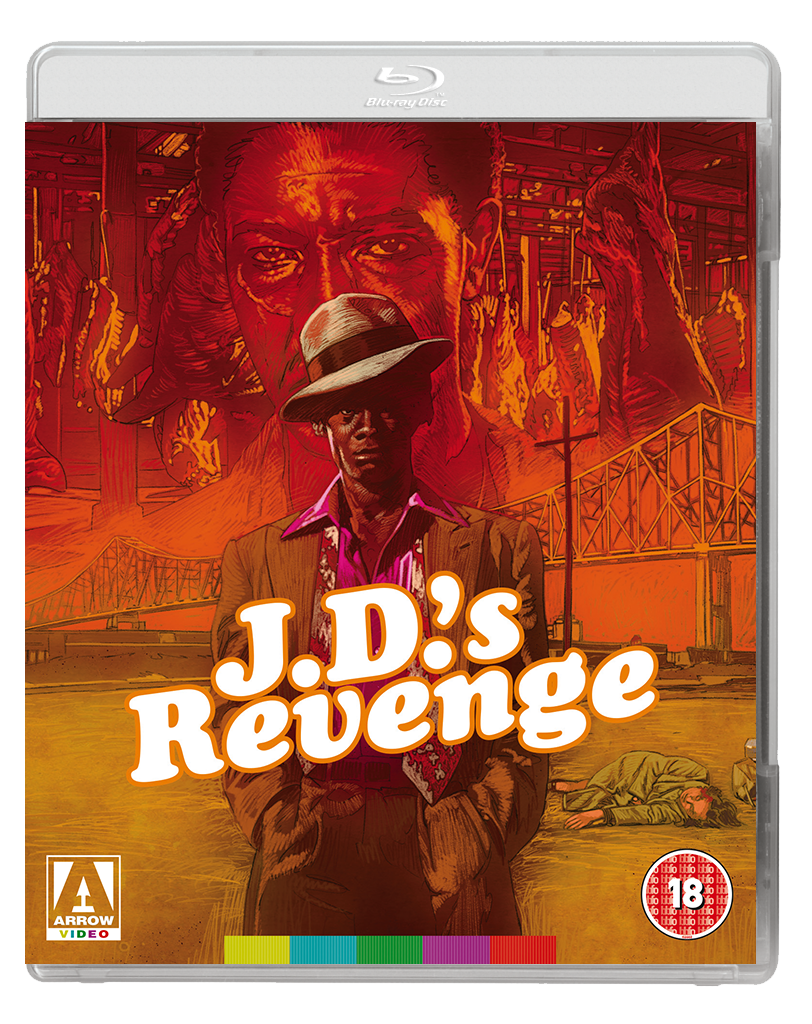 Making it's UK DVD and Blu-ray debut, in a brand new and dazzling 2K restoration, produced by Arrow Films exclusively for the release, is Arthur Marks' cult classic,JD's Revenge, which follows in the footsteps of blaxploitation horrors Blacula andAbby, in a tale of possession of mobster mayhem in New Orleans. The dual format package features brand new interviews, as well as a collector's booklet containing new writing by Kim Newman with the first pressing.
To buy click HERE
Not a bad line up at all.